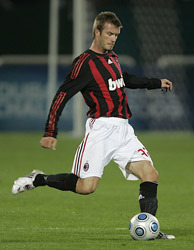 Save 30% by subscribing to World Soccer
Adriano Galliani hopes Los Angeles Galaxy will negotiate with Milan over an extension to David Beckham's stay in Italy.
Beckham is due to return to his parent club on 9th March, but Milan have made it clear they would like to keep Beckham for longer, while the England midfielder has hinted that he would be open to staying at the San Siro.
Galliani is optimistic about Milan's chances of securing Beckham, who has been included in Carlo Ancelotti's updated Uefa Cup squad.
"David is an LA Galaxy player, we can't kidnap him," chief officer Galliani told Gazzetta dello Sport.
"I can only talk about what the club would do. And Milan will do everything to have Beckham also after March.
"It's clear there is our will to keep him until the end of the season and also as a permanent move.
"There is a hope, but contracts must be respected. Should LA Galaxy decide to open a negotiation, we would be happy to try.
"But agreements are clear. Beckham must come back to USA on March 9th."