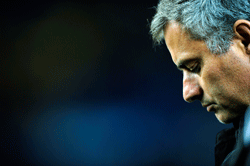 Huddersfield are now a best price 13/8 to be promoted from League One after their 3-0 win over Notts County on Sunday…
Jose Mourinho claims that he came close to becoming the England manager but underwent a last-minute change of heart.
The former Chelsea manager has admitted that he came within 'hours' of succeeding the sacked Steve McClaren in 2007, as the Football Association sought a new coach after the failure to qualify for Euro 2008.
Mourinho was a free agent at the time, having left Stamford Bridge two months before McClaren was fired.
But the Portuguese instead opted for Inter, where he enjoyed Treble-winning success, before moving on to his current job at Real Madrid.
Mourinho told l'Equipe: "I was hours away – I almost signed up for the England national team.
"But at the last minute I began thinking, 'I am going to coach a national side, there will be one match a month and the rest of the time I will be in my office or overseeing matches.
"And then to have to wait until the summer to compete in a European Championship or a World Cup'? No, it wasn't for me.
"So at the last moment I pulled back, preferring to wait for the right job to come along, a good club, a challenge that could motivate me. That was Inter (Milan)."
Mourinho was out of the game for nine months before being appointed Inter coach in June 2008, leaving them for Madrid last summer.
"When I left Chelsea, the first month was fantastic. I went to Africa, to Japan, I did tons of things I had not been able to do," he added.
"The second month was also good, but from the third onwards it was horrible, just awful."
Mourinho admitted he also came close to taking the Paris St Germain, but decided against it as he was not convinced by Ligue 1's quality.
Asked why he did not take the PSG post, he said: "I do not know. Perhaps because of the feeling that England, Spain or Italy are more powerful leagues, and we must make the most of the best years of our career by working at the highest level."
Huddersfield are now a best price 13/8 to be promoted from League One after their 3-0 win over Notts County on Sunday…
Take advantage of the sales by saving up to 36% on a subscription to World Soccer