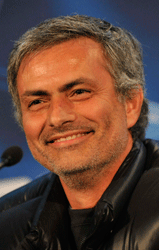 Save up to 33% on a subscription to World Soccer
Jose Mourinho has dismissed suggestions he could join Manchester City this summer.
Mourinho has already stated that he has no intention of leaving Real Madrid at the moment.
Having seen his side brush aside Tottenham in their Champions League quarter-final, Mourinho was asked about a link with City.
"Me to Manchester City? That's impossible," he said.
The Portuguese was also quizzed about reports linking Cristiano Ronaldo to Milan after their owner Silvio Berlusconi admitted his admiration for the player.
And again, Mourinho doubted his biggest name would be leaving.
"I'm not saying it's impossible, because in football you never know, and (AC Milan's owner, Silvio) Berlusconi can make a crazy offer," he said.
"But it must be a true madness because Real Madrid don't want to sell Cristiano Ronaldo. "
Mourinho added on Real's official website: "He (Ronaldo) is a tremendous player and I don't think anyone can afford to pay what he's worth, but only Florentino Perez (the club president) has the final say in this.
"Only the President of Real Madrid can put a stop to Milan's endeavours to sign Cristiano Ronaldo."
Tottenham are out of the Champions League and they're now a best price 9/4 to finish in the top 4 this season…
Tottenham are out of the Champions League and they're now a best price 9/4 to finish in the top 4 this season…