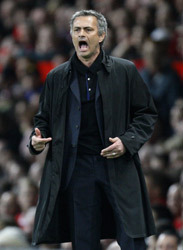 Holland, who top group nine, host Scotland in their latest World Cup 2010 qualifier this Saturday. See all the BestPrice match betting here.
Jose Mourinho has told Inter president Massimo Moratti that he needs to trim his squad if he is to guide the team to their first Champions League crown since 1965.
Speaking to Wednesday's Gazzetta dello Sport, Mourinho listed a number of demands in order to bring continental success to a club that has frequently underperformed on the European stage.
Despite winning the last three Serie A titles and leading the current championship by seven points, Inter have not reached the final of Europe's premier club competition since 1972 and have only once reached the semi-finals, in 2002-03, since the Champions League expanded in 1997-98.
But Mourinho believes he can end Inter's quest for European glory by developing young players, reducing the squad size and improving their training facilities.
"With four more over 30s I wouldn't stay here but with four top players I would accept the challenge," said the former Chelsea boss.
"For sure I don't want to work with 29 players any more hence we also have to sell players."
That could mean a host of departures in the summer as Mourinho wants to develop young players such as his teenage pair Mario Balotelli and Davide Santon, both currently battling for regular places in the starting line up.
But Mourinho also wants his training facilities to be revamped.
"First things first Inter needs to improve the level of its working conditions," said Mourinho.
"Starting with Pinetina (the training complex) where we have to change not only the training pitch but also the structure to allow our players to give their best.
"The team needs a bigger margin of improvement. When you have two young players like Balotelli and Santon with a huge potential to improve you can't settle for that, we need to have four or five of these players next year.
"A team that looks to the future as well as the present needs to see things in a different way."
But Mourinho admits it won't be easy to convince Moratti to take a long-term approach, even though he says it worked for him in the past.
"Right now he's mulling over what I told him. He's analysing my thoughts and desires," said Mourinho.
"We need more young players with potential. And even if this means losing something in our potential to win right now I believe it's a risk we should not be afraid of.
"We're working for us, for our future. I don't want to just promote myself, winning tomorrow and then leaving my successor with a group of players that have no potential.
"When I arrived here I had a group in which I had to leave five players out of the Champions Legaue list (of 25 players).
"When I leave here there won't be this problem. The ideal group is one in which no-one feels excluded.
"It's a path that takes courage to pursue.
"I'll give you an example, when (Luis Felipe) Scolari arrived at Chelsea (just under a year after Mourinho left) he said he had never found a club as organised with a squad as professional and with as much potential – that made me proud.
"When I take a job I work for the club, not just for me."
Holland, who top group nine, host Scotland in their latest World Cup 2010 qualifier this Saturday. See all the BestPrice match betting here.
For more fascinating features, subscribe and save 30% and use the below link?