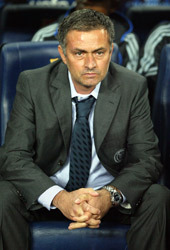 Chelsea manager Jose Mourinho has warned new director of football Avram Grant not to meddle in his affairs.
Ex-Israel coach Grant, 51, was appointed last week by Chelsea and holds a place on the club's board to whom he will report.
Mourinho said: "He's here to give some support to different areas in the club and for me that is not a problem.
"From my point of view, he must not interfere with the power I have in relation to my job."
Grant flew out with Mourinho and his squad to Los Angeles on Monday to join in the club's pre-season tour.
A statement from the club said Grant would be responsible for 'liaison on, and co-ordination of, football matters across the various areas of Chelsea FC'.
While Mourinho welcomed his arrival, he made it clear that Grant's remit did not extend to coaching or team selection.
Mourinho said: "I think the club was very clear in the statement they put out.
"If you want to know more about his work ethic, you'll have to speak with him."
"He's here to give some support to different areas in the club and for me that is not a problem."