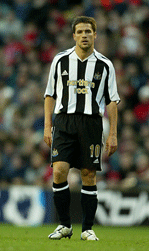 Newcastle striker Michael Owen may only have one game to prove his fitness for this summer's World Cup finals.
Owen has undergone two operations since breaking a foot bone in December.
England name their provisional squad on 8 May but Owen may not be fit until Newcastle's last match of the season on 7 May.
He said: "Whether it is one game or maybe two games – I would be a miracle worker if it was any more than that."
England face Hungary in a friendly on 30 May and play Jamaica in another World Cup warm-up match on 3 June.
He added: "I am pounding the treadmill with that in mind.
"I would love to show my face in at least one game, then look forward to next season."
"I will have the stitches out on Thursday. I had a little setback but it was not back to square one," he said.
"It is clearly healing nicely and I am hoping I can play again for Newcastle this season."
However, Owen acknowledges that his three-month lay off makes him more vulnerable to a fresh injury.
"I am confident I can play in the England friendlies against Jamaica and Hungary – as long as I do not have any more setbacks or muscular problems," he stated.
"A lot of people can have those when they are coming back from long-term injuries.
"You come back and because you are maybe protecting something subconsciously, something else goes."
Meanwhile, England skipper David Beckham is optimistic that Owen will be fit for Germany.
"I have heard Michael say he will be on that plane and that he will be fit and, fingers crossed, he will," said Beckham.
"He is young, quick and athletic and when he has recovered from injuries before he has come straight back into the team and scored goals straight away."
Beckham believes England will have no excuses if they fail to deliver this time around.
"We can't keep making excuses going into competitions because with the talent we have in our country we have to go into this competition with the aim of going as far as we can," he said.
"No excuses and no regrets. If we are not good enough we are not good enough but we know we have got the players.
"The England team will be fresher than going into previous World Cups.
"We have gone into tournaments before with players carrying injuries and others missing.
"Hopefully we can avoid that and have everyone fit. That will give us a great chance."
Subscribe to World Soccer – The essential football magazine.