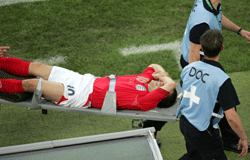 With the World Cup in full flow click here to see the latest odds on every match.
England striker Michael Owen has admitted feeling guilty for his club Newcastle United, after learning that he will be out of action for at least seven months.
The 26-year-old ruptured his anterior cruciate knee ligament in England's 2-2 draw with Sweden on Tuesday.
"I was sending text messages apologising to all sorts of people for letting them down," Owen told The Times.
"I feel really guilty when I think of the people at Newcastle United.
"I think of the chairman Freddy Shepherd, who has invested all that money and Glenn Roeder, the manager, who has kept in touch through the tournament and been very supportive."
Owen has made 11 appearances for the St James' Park outfit and scored seven goals.
Newcastle manager Glenn Roeder could not mask his disappointment at the loss of Owen.
"Now people will understand why Sir Alex Ferguson has been jumping up and down at Old Trafford about the Wayne Rooney situation," said Roeder.
"For at the end of the day, Rooney will probably be the difference between Manchester United winning the Premiership title or not.
"And Michael Owen is the same for us. Strikers like Alan Shearer and Michael Owen do not just grow on trees and you just cannot go out and get another one.
"Yes, it is a massive blow but what Newcastle United will not do is wallow in self-pity."
Owen has vowed to return to Germany to collect his World Cup winners' medal if England trimph at the finals.
"My tournament might be over, but I still want that medal around my neck.
"I told Sven-Goran Eriksson that I would be back out for the World Cup final.
"It is strange to think that my farewell was the last I might see of Sven, a manager who has picked me whenever I have been available and for whom I have scored a lot of goals.
"But I haven't given up hope of seeing him again on July 9."
With the World Cup in full flow click here to see the latest odds on every match.