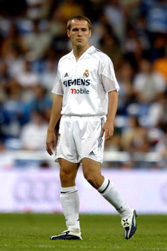 Michael Owen was delighted to open his Real Madrid account, grabbing what turned out to be the winner in their UEFA Champions League victory over Dynamo Kyiv.
The former Liverpool striker, has struggled to make any kind of impact since joining Madrid in August, and there was a feeling of relief to have finally broken his duck.
"This was a massive game, so to score the winner in front of your home fans in a Champions League match was a great feeling," said Owen.
"I just wish the timing could have been a bit better, in that maybe I could have scored it a little sooner.
"I think we were all a little edgy at first tonight but scoring settled me right down. It's what I have been waiting for since I came here.
"I have put in some good performances, and some okay performances since I arrived here, so it was important for me to score a goal because that is an important part of my game. It is just a relief to get off the mark."
Many observers questioned the wisdom of Owen moving to a club where he could not be guaranteed a place in the starting line-up. Nonetheless, the 24-year-old remains confident he can make a go of it in Spain.
"Things are slowly getting better and better for me now," he added.
"It is not easy living in a hotel room all the time, but I think everything is starting to come together."
Owen started along with both Ronaldo and Raul in Mariano Garcia Ramon's side, but he is not bothered who he plays alongside, as long as he plays.
"I don't care where I play – as long as I play. It was an attacking line-up today with Raul moving out wide on the left.
"I was asked to work the flanks, while Ronaldo likes to work in and around the box taking men on.
"Funnily enough it was the opposite way round for the goal.
"He [Ronaldo] did great out on the left and put in a cracking ball.
"I just managed to stay on the blind side of the defender long enough to nip in front of him and score.
"Of course, I ran straight to him to congratulate him because he did so well."