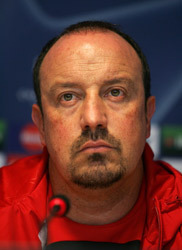 Arsenal beat Hull and will now meet Chelsea in an all-London FA Cup semi-final at Wembley, while Man Utd will take on Everton in the other.
Rafael "Rafa" Benitez fact file.
16th April 1960 – Born in Madrid, Spain.
1972 – Aged 12 startsoff as a youth player playing for Real Madrid Cantera (Academy) as a midfielder.
1974 – Signs for Castilla.
1979 – Aged 19 and whilst at University studies for a degree In Physical Education, represents Spain Universities XI in World Student Games, scores in first game but gets injured in second and is ruled out injury for a year.
1981 – Signs for Tercera Division Parla on loan and then permanently, where he helps the team gain promotion to Segunda Division B.
1982 – Gains degree in Physical Education.
1985 – Signs for Linares in same division as a player/coach. He gets injured and retires from playing after the 1985-86 season.
1986 – Aged 26 returns to Real Madrid to join coaching staff and appointed coach of Castilla B (Reserve B team).
1987 & 1989 – Wins two league titles in three years.
1989 – Gains coaching certificate.
1990 – Wins Spain Under-19 League. Succeeded Jose Antionio Camacho as coach of under 19 side.
1991 – Wins Spain Under-19 Cup for the first time.
1992 – Becomes assistant coach to Real Madrid B.
1993 – Succeeds Garcia Remon to become manager of the B Side at the start of 1993-94 season.
March 1994 – Becomes assistant manager to Vicente del Bosque for Full Real Madrid side before returning back to his former role in time for the start of the 1993-94 season.
1995-96 – Leaves Real Madrid to take over of Real Valladolid but only wins two of his first twenty-three games and is sacked with the club rooted to the foot of the Primera Division.
1996-97 – Becomes head coach of Osasuna in Segunda Division but is sacked after nine games with just one win.
1997 – Joins Extremadura, finishes second to gain promotion of the top flight of Spanish football.
1999 – After keeping Extremadura in the Primera division for one season, club is relegated and Benitez quits.
2000 – Takes a year out from coaching to study in England and Italy and also does media work as a commentator/analyst for Eurosport, Marca and El Mondo.
Appointed as Tenerife manager of Segunda Division and gains promotion once again.
2001 – Appointed first team coach of Valencia. Introduces an attacking style of play to the club.
2002 – Valenica win first La Liga title in 31 years by 7 points ahead of Deportivo La Coruna.
2004 – Wins La Liga with three games to spare and also wins the UEFA Cup after beating Marseille 2-0 in the final.
Shortly afterwards, quits the Spanish champions after failing out with Valencia's Director of Sport, over the failure to reinforce the squad with players the coach requested. He is quoted as saying: "I asked for a table and the brought me a lampshade" when quizzed about club's transfer policy.
June 2004 – Signs for Liverpool after replacing Gerard Houllier, signs an influx of Spanish players including: Pepe Reina, Xavi Alonso and Luis Garcia.
2004-2005 – Guides Reds to Carling Cup Final where they lose 3-2 in extra-time to Chelsea but can only finish 5th in the league behind local rivals Everton.
Inspires his team to stage a remarkable comeback in the Champions league Final against Milan, coming from 3-0 down at half-time to score three goals in six minutes before going on to life the trophy after a penalty shootout.
2005-2006 – Liverpool improve their position in the league to 3rd and miss out on the runners-up spot by a single point.
Liverpool win the FA Cup after defeating West Ham 3-2 on penalties following a 3-3 draw aet. Benitez becomes first manager in the club's history to win major trophies in his first two seasons in charge.
2006-2007 – Signs Craig Bellamy and Dirk Kuyt in a concerted effort to boost his options up front.
Liverpool win the Community Shield at the start of the new campaign against Chelsea but fail to live up to the pre-season expectations in domestic competitions.
In contrast, their European campaign is again successful with the Reds again reaching the Champions League Final where they face familiar opposition in Milan. Lose the final in Athens 2-1.
After the game, Benitez, in a thinly disguised message to the club's owners George Gillet and Tom Hicks, says: "We must quickly sign our number one targets and spend big and spend now"
2007-2008 – Liverpool's record signing Fernando Torres joins from Athletic Madrid and Dutch youngster Ryan Babel arrives from Ajax. The season starts off brightly with the club unbeaten until the end of November.
Results suffer and relations with the club's owners deteriorate following an acrimonious public spat over the club's transfer policy. Liverpool end the season empty-handed.
2008-2009 – The acquisition of Robbie Keane instead of Benitez target, Gareth Barry, is blamed on chief executive Rick Parry. The lingering hostility between the pair is ultimately resolved when Parry agrees to stand down from his role at the end of the season.
Liverpool make their best ever start to a Premiership season, thanks to winning crucial games at home to Manchester United and away to Chelsea.
January, 2009 – Signs of pressure begin to show when Benitez speaks ahead of his side's 0-0 draw with Stoke City, claiming that Manchester United manager Sir Alex Ferguson, gets away with influencing referees. "Only Mr Ferguson can talk about fixtures, referees and other things and nothing happens," complains Benitez.
Following the outburst Liverpool embark upon a poor run of form in the league and are knocked out of the FA Cup, while Manchester United go from strength to strength to move clear at the summit of the Premier League.
March 2009 – Benitez masterminds a 4-0 Anfield victory over Real Madrid to progress to the quarter-finals of the Champions League. Four days later, he takes his side to Old Trafford where Liverpool crush the reigning champions 4-1 to give the Reds a slim chance of capturing the league title.
March 18, 2009 – Spaniard ends months of speculation about his future by signing a new five-year deal that will keep him at the club until 2014.
Arsenal beat Hull and will now meet Chelsea in an all-London FA Cup semi-final at Wembley, while Man Utd will take on Everton in the other.
For more fascinating features, subscribe and save 30% and use the below link?