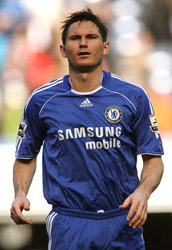 Juventus manager Claudio Ranieri has ruled out a move for Chelsea midfielder Frank Lampard.
Lampard has been linked to Juve after it was reported that he had turned down a new deal from Chelsea.
But former Chelsea manager Ranieri told BBC Sport: "We are full in midfield and won't be signing anyone else there.
"Frank is a fantastic player – I know that better than anyone – but the only player we need before the start of the season is a central defender."
Ranieri bought Lampard to Stamford Bridge in 2001 in a deal worth £11m.
"Many people said Frank wasn't worth the money when I signed him but he worked very hard and went on to become one of the best midfielders in the world. That made me very proud," said Ranieri.
"We had a great relationship when we were at Chelsea and it was good to catch up with him after England's game against Brazil last month."
Lampard was reported to have turned down a deal that would have made him Chelsea's highest-paid player but his agent Steve Kutner claimed that talks over a new deal had yet to commence.