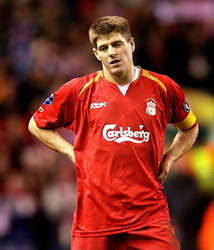 Real Madrid's footballing director Benito Floro has revealed that Liverpool captain Steven Gerrard is on their list of transfer targets.
Gerrard signed a new four-year contract last summer to end the ongoing speculation linking him with a move to Chelsea.
However, Liverpool may face another fight on their hands to retain Gerrard as Real have targeted the England midfielder and Internazionale striker Adriano as "priority" signings.
Floro told Spanish radio station Cadena Star: "Gerrard is a player on the list that we wanted to sign previously."
Real are keen to reinvigorate an ageing squad after enduring a third successive season without a trophy.
"I've recommended as priority signings a powerful central striker like Adriano and a top midfielder in case Zinedine Zidane leaves," Floro added.
Zidane has a one-year option after this season although there has been speculation that he will hang up his booots after this summer's World Cup.
Gerrard looked set to join Chelsea last summer, but decided to stay at Anfield aftre their unexpected Champions League triumph.
Liverpool manager Rafael Benitez had been mentioned by Real as a possible contender to take over from Juan Roman Lopez Caro.
Subscribe to World Soccer – The essential football magazine.