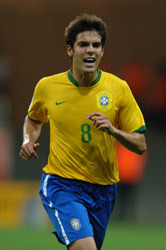 Real Madrid president Ramon Calderon has not given up hope of signing Milan's Brazilian midfielder Kaka, despite the player saying he was happy to stay in Italy.
"It is true that when I presented myself as a candidate I had this objective and (coach) Fabio Capello and (sports director) Predrag Mijatovic said he would do very well for us," Calderon told Real Madrid television on Thursday.
"Mijatovic told me he was confident he would come and I continue hoping it will be so. It is another thing to make it happen but I still believe it is possible."
Kaka signed a contract extension with Milan until 2011 in June and has stated he want to stay at the San Siro.
A week ago Milan, angry at what they perceived to be an illegal approach for Kaka, said theywould not negotiate with Real for the player.
Although Milan were involved in Italy's match-fixing scandal they have been allowed to compete in the Champions League and will play Red Star Belgrade in the third qualifying round next week.
Mijatovic told a news conference on Wednesday: "Italian football has had problems but it seems as though Milan will retain their top-flight status. This is a setback to our plans but we have other strategies that could work.
"He is a great player but we want players who can play in every competition. The Champions League is very important to us. We will see what happens in the next few days."
Real have already signed Italian defender Fabio Cannavaro, Brazilian midfielder Emerson and Dutch striker Ruud van Nistelrooy since Calderon was elected president at the beginning of July.
Spanish media claim Real are also interested in signing Arsenal forward Jose Antonio Reyes.
Mijatovic added: "Reyes is a player with a lot of talent but we are focusing on other priorities at present. We still have a month until the end of the transfer window so we should remain calm."