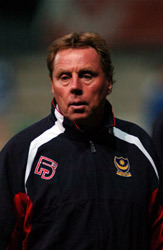 For the latest odds on this seasons Champions League click here.
Harry Redknapp has dismissed allegations claiming he was guilty of 'tapping up' as "farcical".
The BBC Panorama investigation into corruption within English football, alleged that the Portsmouth boss had 'tapped-up' Blackburn defender Andy Todd.
"I have no idea what I was doing in the programme," Redknapp said.
"Anyone who saw the programme knew it was farcical. I've done nothing wrong, not a thing. I now just want to talk about football," said the Pompey boss.
Redknapp was secretly filmed talking about Todd with agent Peter Harrison.
Redknapp's assistant at Portsmouth at the time the footage was filmed, Kevin Bond, who was recorded admitting he would consider receiving payments, intends to sue the BBC over the programme.
Meanwhile, Redknapp has offered his support to Bolton manager Sam Allardyce, who was also the subject of the bulk of the allegations made in Tuesday's programme.
"I hope things will get sorted out for Sam," he said.
"He's a strong character and hopefully everything will be okay."
The film showed two agents claiming they paid bungs – illegal payments – to Allardyce.
The Bolton boss has denied the allegations and has asked his lawyers to take "appropriate" steps.
For the latest odds on this seasons Champions League click here.