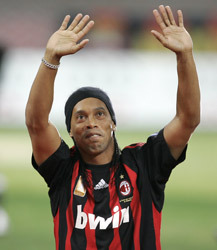 Will Kenny Dalglish get the Liverpool manager's job on a permanent basis? See all the latest betting
Flamengo have confirmed the signing of former World and European Footballer of the Year, Ronaldinho, from Milan.
Gremio were initially considered the favourites to sign Ronaldinho and Palmeiras also showed an interest, but the player has opted to join Flamengo.
Ronaldinho, who also played for Paris St Germain and Barcelona in Europe before returning to his native South America, has signed for Flamengo until 2014.
Club president Patricia Amorim told the club's official website: "We are pleased to announce the hiring of Ronaldinho for the next four years.
"I thank the board for the discretion and wisdom throughout the negotiations.
"This project started from the first day I got the presidency.
"I thank the legal department to (head coach Wanderley) Luxemburgo and especially the fans of Flamengo."
Will Kenny Dalglish get the Liverpool manager's job on a permanent basis? See all the latest betting
Take advantage of the January sales by saving up to 36% on a subscription to World Soccer