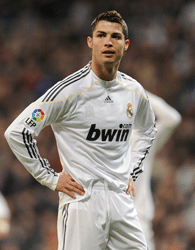 Man United have gone top of the table after their 4-0 drubbing of Hull. See how this has changed the Premiership betting here.
Cristiano Ronaldo has claimed the red card he received in his side's 2-0 La Liga win over Malaga was a "disgrace" despite breaking Patrick Mtiliga's nose with a swinging arm.
Ronaldo, who scored both goals before his 70th-minute dismissal, apologised to Mtiliga after the match but his protest at the time of the incident has angered Malaga officials.
The injury came as Ronaldo threw an arm into Mtiliga's face as he was trying to break free from the Danish defender.
"People who understand football know that my intention is always to try and play," Ronaldo said. "The red card is a disgrace. I don't understand it. I learned in England not to deceive the referees. This is not a red card here or in anywhere in the world and I'm not asking for protection. I've seen worse things in other games.
"I didn't mean to injure the lad. It was bad luck to hit him on the nose because he's only 1.70m and if he had been taller I would have struck his chest. I always want to play and these things make me angry. I've spoken with Mtiliga and he told me that I didn't need to apologise because he doesn't believe I hurt him intentionally.
"I wouldn't want to injure anybody. I'm not that type of person. I'm not a bad person. I only want to shine by playing football. Now I'm going to be angry when I get home because I won't be able to play through suspension."
Malaga president Fernando Sanz was critical of Ronaldo's attitude when he was interviewed immediately after the game.
"I don't suppose Ronaldo meant to do it but he swung his arm back once and the second time he did it he broke the player's nose," Sanz told Canal Plus. "It was a brutal impact and a clear sending-off offence. What he should have done is left the field apologising to his opponent rather than throwing his arms in the air and protesting."
Real Madrid coach Manuel Pellegrini said he was unable to see the incident clearly but , Madrid director general Jorge Valdano came to his player's defence.
"The referee has to understand which players want to entertain and those who want to break up the spectacle," he said. "Cristiano wants to play. When a player grabs him from behind he tries to break away from them. Others throw themselves to the ground to simulate a foul.
"More than Ronaldo's need to adapt to the Spanish league the referees need to adapt to protect players who want to entertain. I don't want to judge referees decisions, simply to state that Ronaldo's intentions are always noble."
It was Ronaldo's second red card for Real Madrid after being sent off in a league match against Almeria last month.
Man United have gone top of the table after their 4-0 drubbing of Hull. See how this has changed the Premiership betting here.
Make sure you don't miss any of the last news and articles from World Soccer. Subscribe to World Soccer today and take advantage of our all 50th anniversary offer, saving up to 50%!