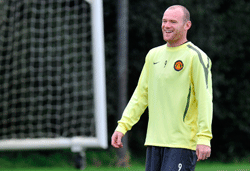 Spurs are unbeaten in their last 4 matches against Everton and host the Toffees again on Saturday – see the full betting at easyodds.com
Wayne Rooney has agreed a new five-year contract at Manchester United that is set to keep the striker at Old Trafford until at least June 2015.
The 24-year-old had earlier this week announced his desire to leave United but in a shock u-turn he has now committed his future to the club.
Sir Alex Ferguson said: "It's been a difficult week, but the intensity of the coverage is what we expect at Manchester United. I said to the boy that the door is always open and I'm delighted Wayne has agreed to stay.
"Sometimes, when you're in a club, it can be hard to realise just how big it is and it takes something like the events of the last few days to make you understand. I think Wayne now understands what a great club Manchester United is.
"I'm pleased he has accepted the challenge to guide the younger players and establish himself as one of United's great players. It shows character and belief in what we stand for.
"I'm sure everyone involved with the Club will now get behind Wayne and show him the support he needs to produce the performances we know he is capable of."
Rooney said: "I'm delighted to sign another deal at United.
"In the last couple of days, I've talked to the manager and the owners and they've convinced me this is where I belong.
"I said on Wednesday the Manager's a genius and it's his belief and support that have convinced me to stay.
"I'm signing a new deal in the absolute belief that the management, coaching staff, board and owners are totally committed to making sure United maintains its proud winning history – which is the reason I joined the Club in the first place.
"I'm sure the fans over the last week have felt let down by what they've read and seen. But my position was from concern over the future. The fans have been brilliant with me since I arrived and it's up to me through my performances to win them over again."
Spurs are unbeaten in their last 4 matches against Everton and host the Toffees again on Saturday – see the full betting at easyodds.com