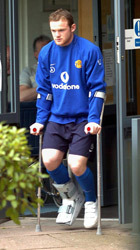 England's team doctor says Wayne Rooney is making a "perfect recovery" from his broken foot and has every chance of being fit for this summer's World Cup.
The 20-year-old Manchester United striker will have a scan on the injury on May 25 to check its progress.
However, Dr Leif Sward told The Sun: "Everything points to a perfect recovery. I have the highest hopes for Rooney and the World Cup.
"I hope I can give a perfect answer after the next MRI scan on Thursday."
Rooney's World Cup place was placed in jeopardy when he suffered the broken bone playing for United at Chelsea on 29 April – and initial reports said he would be out for at least six weeks.
Since then, he has spent time in an oxygen chamber in a bid to speed up the healing progress and has been named in England boss Sven-Goran Eriksson's 23-man World Cup squad.
He has not kicked a ball since suffering the injury and will not be allowed to do so until the injury has completely healed.
"He is not allowed to do that or anything else that could make his foot worse before Thursday's examination," he said.
"But he can put pressure on his foot now with the special protection he is wearing.
"I hope everything has healed well and I can say everything points in that direction.
"This healing process has been very, very good."