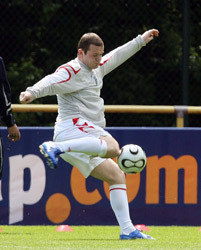 England to win the World Cup are 5/1 with some bookmakers. Get 8/1 via easyodds.com – Click here to find out more.
Striker Wayne Rooney has a "good chance" of being fit to play in England's World Cup campaign, according to Manchester United.
But his club insist that the 20-year-old, who broke a metatarsal in his right foot in April, will only be able to play after the group stage is over.
Even then, United added that at that point a "very careful assessment" would be required to determine whether Rooney could play.
The striker rejoined the squad in Germany on Wednesday after a scan in Manchester.
A statement on Manchester United's website confirmed Rooney was now "in the care of the England medical team".
"The expert independent medical view is that Wayne has a good chance of being fit after the group stage."
"At that point, the expert independent medical view is that his participation in the tournament will require very careful assessment in order to address his suitability, as he will not have had the opportunity to play in less demanding games."
Provided Rooney is named in the squad, Tottenham striker Jermain Defoe who had been on standby, will be sent back to England.
Rooney's inclusion in the World Cup squad is a huge boost for coach Sven-Goran Eriksson, but until he takes the field there will be doubts about his ability to reach peak fitness in such a short space of time.
England coach Sven Goran Eriksson admitted that Rooney now needed to work hard to get himself match-fit.
"The good news from Wednesday evening and today is that Rooney has no more injury. He's injury free," he said at Thursday's news conference in Baden-Baden.
"Now, it's up to us to get him match fit and, when we think he's match fit, I'm prepared to take in any specialist we want to take in, or Manchester United want us to take in.
"I'm doing this in the best interests of Rooney, the England team and 40 million England fans."
England captain David Beckham said the players were pleased to see Rooney return, but insisted they were focused on Saturday's opening match against Paraguay.
"It's nice to have him back but to be honest we haven't really been thinking about it too much as the players have been concentrating and focused on training and it hasn't been a distraction," said Beckham.
"Wayne's been doing the same tests and his fitness level is up there with the rest of us but whether he plays is up to the management."
England to win the World Cup are 5/1 with some bookmakers. Get 8/1 via easyodds.com – Click here to find out more.