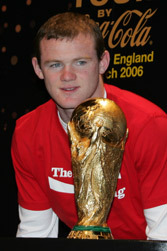 Wayne Rooney will miss England's World Cup group stage games – after a scan revealed he cannot train for at least another three weeks.
Rooney's club, Manchester United, revealed that the 20-year-old will require another scan on 14 June to determine when he can return to action.
"Manchester United has received the results from Wayne Rooney's CT scan performed yesterday and can confirm findings consistent with an injury four weeks old," United said.
"His injury is progressing as expected and we now hope to gradually increase his rehabilitation as planned."
If the striker's broken metatarsal is given the all-clear, he would have 10 days to get fit for a last-16 tie, should England qualify foor the knockout stages.
England have to decide by 9 June whether to replace Rooney in the squad.
The latest news will create a dilemma for England coach Sven Goran Eriksson, who has until May 25 to name his definitive 23-man squad. Although he could take Rooney to Germany he would be unable to name a replacement for the striker after FIFA's June 9 deadline.
Nonetheless, Eriksson was encouraged by the latest fitness bulletin on his star performer.
"This is very encouraging news," Eriksson said. "I'm looking forward to Wayne joining up with the rest of the squad on Sunday. The fact that he is flying out to Germany with us will give everyone a huge lift.
"I spoke to (Manchester United manager) Sir Alex Ferguson today and we had a really good conversation. Despite all the speculation, there has been a very positive dialogue with Manchester United all along.
"We are very grateful for the support that they have given Wayne and the England team.
"We're still hoping that the second scan will show further improvement and that Wayne can play his part in the World Cup."
Meanwhile, Ferguson says the club will not rush him back into action.
"Wayne has trained incredibly hard and we have supported him with his fight to get to the World Cup," said Ferguson.
"But it's obvious we have to be certain he is physically and mentally fit.
"The specialist has confirmed what we have always thought and we are confident in that assessment. We are satisfied with Wayne's progress."
Rooney will join up with his England colleagues on Sunday when the squad arrives for two pre-World Cup friendlies.
He is expetcted to fly out to Germany with the rest of the squad on 5 June but must return to Manchester on 14 June for a further scan. Only then will he be given the go-ahead to resume training and there must be genuine fears now that even if England do reach the last 16, Rooney will play no part in the tournament.