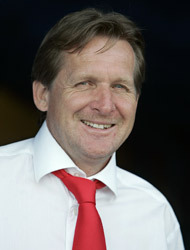 Bernd Schuster has told AS that he expects to be installed within days as Fabio Capello's successor at Real Madrid.
"I am sure all will be sorted out next week," said Schuster, 47, a former Real star who is currently in charge of Getafe.
"Angel (Torres, the Getafe chairman), has made me very happy. He knows I have given my all for Getafe these past two years and he will not stand in the way of me fulfilling my dream.
"He has behaved like a gentleman and I am sure there will be no problem," Schuster continued.
Capello was sacked on Thursday despite leading Real to a record 30th league title.
Sporting director Predrag Mijatovic said yesterday that Schuster was a candidate but noted he was under contract at Getafe.
Getafe chief Torres has said that if Real Madrid call him then a deal for Bernd Schuster could be done immediately.
"The door is open for him," Torres said at a press conference. "I hope that we can reach an agreement.
"Bernard has said that he will not rescind his contract and it is a daft idea to think that there is a clause.
"He has told me that he will deal with it and I doubt that Madrid have approached him without sitting down to talk to Getafe first. It would not be a problem to sit down and talk to them.
"Schuster wants to coach Madrid, but he wants to sort everything out because he does not want to leave Getafe on bad terms. I just want this soap opera to end. It is harming the image of the club.
"The first obstacle was to remove Capello and now they have done that I do not understand why they deny their interest. I do not understand why people think that there is a list. Bernd has an agreement and is calm.
"There is a 99 per cent chance that he will not stay here. This should take two seconds to sort out.
"If (Predrag) Mijatovic calls, or the treasurer or whoever, then I will speak to them. I want a good relationship with Real Madrid and with Ramon Calderon and I do not want this circus to go on. "