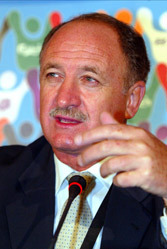 Portugal coach Luiz Felipe Scolari has blamed his side's semi-final departure on their failure to take their chances.
Portugal lost 1-0 to a Zinedine Zidane penalty and will now play Germany on Saturday in the third place play-off match.
"We did everything possible but if you don't score you don't win the game," said the Brazilian.
"There are situations that are difficult. We did everything we could, we did our best."
"It was deserved victory, definitely, for France.
"We have to accept this. We knew it would be a difficult match and had a few chances but, unfortunately, didn't do it and lost."
Scolari confronted referee Jorge Larrionda at the final whistle, but he refused to discuss the incident.
"No comment – I won't talk about that."
He also failed to confirm that he would renew his contract with the Portuguese Football Association.
"I have a contract until the end of July then we'll see what happens," he said.
Portugal skipper Luis Figo thought his side deserved more from the game.
"We are very disappointed. I thought we deserved a better result than this," said Figo.
"We had more control of the game but we couldn't put away our chances. It is a pity for us as we so wanted a place in the final.
"I am proud of the team and we want to finish off with a win over Germany."