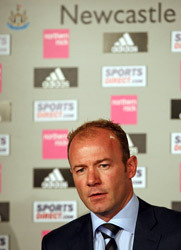 Simon Hopper thinks Barcelona should be taken on in the Champions League outright market – see his full betting preview here.
Alan Shearer has admitted he thought he would remain as Newcastle manager after they were relegated two seasons ago.
The former Newcastle striker failed to prevent the club from being relegated when he took over as caretaker boss for their last eight games of the 2008-09 season, but after post-season talks with club owner Mike Ashley, Shearer assumed that he would stay in charge for the Championship campaign.
Instead, Ashley gave Chris Hughton the job on an interim basis two days later. Hughton, now the permanent manager, guided the club to automatic promotion the following season.
"I thought I had the job at Newcastle," Shearer told BBC Radio 5 Live. "We had got relegated and I had sat down with the appropriate guys and we had agreed everything. Then two days later … I have not spoken to them since."
But Shearer refused to criticise Ashley, claiming he is entitled to make whatever decisions he sees fit.
"You have got to look at the guy and think, 'Hang on a minute, he has put a hell of a lot of money into Newcastle United, so he is entitled to do what he wants to do'. If you are spending £150m, £200m, £250m on something, then you are going to want to call the shots and he is doing that. I don't know whether he wants to spend any more money, I don't know if he wants to take the club further or what.
"He has done a magnificent job. He is a really, really nice guy and was a big help to me when I went in there. I have got to be honest, I didn't think Newcastle would come back up at the first attempt with the team they had. They had some very good players in there, but the vast majority were the players who took them down, and you have got to give Chris tremendous credit for that. He steadied the ship and, without doubt, he deserves a crack at the big league now."
Shearer's only management experience remians those eight games in charge of his favourite club, but the former England striker insists he is keen to pursue a career in management, be it at his former club or elsewhere.
"I absolutely loved my time at Newcastle, despite what happened," he added. "I have never, ever worked so hard in my life and my kids have never seen so little of me, but I loved the challenges that it brought and yes, if the right one came along, then I would seriously look at it."
Simon Hopper thinks Barcelona should be taken on in the Champions League outright market – see his full betting preview here.
Make sure you don't miss any of the last news and articles from World Soccer. Subscribe to World Soccer today and take advantage of our all 50th anniversary offer, saving up to 50%!