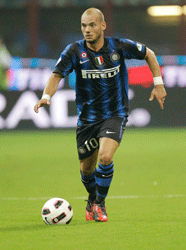 Norwich are now a best price 4/9 to be promoted after their dramatic 3-2 win over Derby County yesterday…
Wesley Sneijder admits he is happy at Inter, although he admits to being flattered to be linked with Manchester United.
The Dutch midfielder is reported to be on Sir Alex Ferguson's list of summer transfer targets.
Sneijder was asked about a possible move to Old Trafford whilst speaking on Dutch radio.
"Do I want to go to United? It's a beautiful club," admitted Sneijder on Studio Ajax.
"But I'm fine in Milan and not at the point to think about it."
Sneijder was joined on air by his compatriot Rafael van der Vaart and the Spurs forward joked he should think about move to London rather than Manchester.
"All the players from Man United and [Manchester] City are coming to the city of London in their own time," he said.
"I think that says enough about that city."
Norwich are now a best price 4/9 to be promoted after their dramatic 3-2 win over Derby County yesterday…