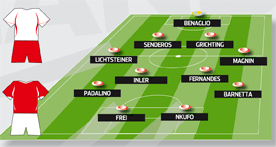 Hitzfeld has not strayed from his favoured 4-4-2 formation since he took over following Euro 2008. Switzerland are a determined, disciplined team but lack any real flair.
Diego Benaglio is the automatic choice for goalkeeper, his saves having helped Switzerland qualify despite some ropey performances. Philippe Senderos is the commanding figure in defence and Hitzfeld is expected to keep faith with him despite his lack of match practice in the last season, which is a real headache for the Swiss. He is likely to be partnered in the central of defence by Stephane Gricthing, who featured in all but one of Switzerland's qualifiers.
The dependable Stephan Lichtsteiner is the regular choice at right back, while Ludovic Magnin is the usual left-back and free kick specialist although he is replaced by Christoph Spycher when Hitzfeld is in a more cautious move.
Gokhan Inler does the dirty work in midfield, aided by either Benjamin Huggel or Gelson Fernandes. The latter has better technique and passing but can be rash and overaggressive. Tranquillo Barnetta is the midfield inspiration with Marco Padalino doing a lot of running on the right.
Alex Frei, recovering from a broken arm, and Blaise Nkufo form the ageing front line, although Hitzfeld might be temped to bring in Eren Derdiyok instead after his impressive season with Bayer Leverkusen.
Expect Hakin Yakan, perhaps their most naturally gifted player, to be brought on in the second half to liven things up if Switzerland are in need of a goal. They can also look to Xherdan Shaquiri and Johan Vonlanthen to open up play down the flanks or Marco Streller for some added punch up front.
Team – 4-4-2
Diego Benaglio; Stephan Lichtsteiner, Philippe Senderos, Stephane Gricthing, Ludivoc Magnin; Gokhan Inler, Gelson Fernandes, Marco Padalino, Tranquillo Barnetaa; Alexander Frei, Blaise Nkufo.