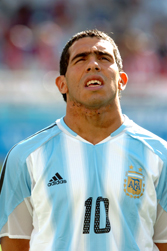 Argentina striker Carlos Tevez has completed his $18 million move from Boca Juniors to Brazilian side Corinthians.
The deal is a record for a Brazilian club.
The 20-year-old is regarded as one of world football's brightest prospects and has attracted interest from a number of European clubs.
"The transfer for 100 percent of his federative rights has been approved for a total of $18 million," Boca president Mauricio Macri told reporters after a meeting of Boca's executive committee.
"The deal was done for this amount plus an additional sum in case of a future sale. Afterwards, there are also reimbursement of expenses and other things, it's quite a complicated deal."
Tevez was leading scorer in this year's Olympic football tournament with eight goals as he helped Argentina win their first gold medal in the sport. He also led Boca to the South American Libertadores Cup title in 2003 and the runners-up spot this year.
"It's a shame we could not have him for longer," Macri said.