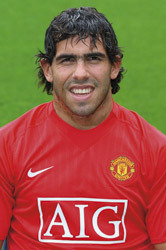 Pompey, who sit just one place off the drop-zone, face a tricky home tie against Everton in the Premier League this Saturday lunchtime.
Carlos Tevez timeline
31st August 2006 – Carlos Tevez aged 22 joins West Ham United with Argentine compatriot Javier Mascherano for a reported fee of £12million from Corinthians (Brazil). Despite the transfer, the players rights are still owned by Kia Joorachian's Media Sports Investment company.
10th September 2006 – Carlos Tevez comes off the bench for his debut in a 1-1 draw with Aston Villa.
25th November 2006 – Tevez gets substituted against Sheffield United. Reacts badly to this and leaves the ground early. As punishment, his team mates get him to train in a Brazil top but he refuses and has to donate a week's wages to charity.
6th January 2007 – Makes first start under new manager Alan Curbishley in FA Cup 3rd round tie against Brighton & Hove Albion; he also scores his first goal.
2nd March 2007 – West Ham charged by Premier League for breach of rules over the signing of Tevez and Mascherano.
4th April 2007 – Three-man panel appointed by the Premier League to investigate the signing of Tevez and Mascherano.
27th April 2007 – West Ham are fined £5.5million but spared a points deduction after pleading guilty to breaking Premier League rules. The verdict also rules "the registration of Carlos Tevez can be terminated by the FA Premier League" but Tevez is later cleared to continue playing for the Hammers.
13th May 2007 – Scores goal for West Ham in a 1-0 win against Manchester United, which keeps them in the Premier League. Sheffield United are relegated on goal difference on the last day of the season.
15th May 2007 – FIFA say they will investigate Premier League ruling.
16th May 2007 – Sheffield United file "arbitration proceedings" against the Premier League in a bid to overturn the decision not to deduct points from West Ham.
22nd May 2007 – The Premier League agree to set up an arbitration tribunal to rule on Sheffield United's complaints over the affair.
2nd June 2007 – Premier League chairmen agree a new rule forcing clubs to disclose every document connected to player transfers to improve "clarity".
13th June 2007 – Sheffield United plc chairman Kevin McCabe threatens to turn to the European Commission to seek compensation if the independent arbitration panel rejects a bid to overturn their relegation.
18th June 2007 – At the first day of the hearing Sheffield United call on Liverpool chief executive Rick Parry, the chief executive of the Premier League at its inception, to answer questions about when the rules were first established.
19th June 2007 – At the conclusion of the hearing, McCabe reveals a verdict is expected "by the end of the month, maybe sooner".
3rd July 2007 – Sheffield United lose their legal challenge against the Premier League after an arbitration panel dismiss their claim over the Tevez affair.
4th July 2007 – The Blades investigate the possibility of a High Court appeal, on the basis that the arbitration panel made an "error in law" in not referring the Tevez case back to the original independent three-man panel which fined West Ham in May.
6th July 2007 – Tevez agrees personal terms with Manchester United. The deal is held up as the Premier League insists the proceeds of the transfer must go to West Ham and not to Joorabchian or MSI.
11th July 2007 – West Ham reject an official request from Tevez to cancel his contract with the club.
13th July 2007 – Following a private hearing at the High Court, Sheffield United's attempt to gain leave to appeal the arbitration panel's decision is refused.
18th July 2007 – Manchester United chief executive David Gill announces the club will ask FIFA to arbitrate on the Tevez transfer.
24th July 2007 – FIFA recommend case to be referred to the Court of Arbitration for Sport after deciding not to become involved. However, Joorabchian opts to issue High Court proceedings against West Ham.
1st August 2007 – Newspaper reports claim a document was produced in the High Court showing West Ham agreed to Tevez's third-party ownership after the Icelandic takeover, although the club questions its authenticity.
3rd August 2007 – West Ham confirm they have reached a £2million settlement with Carlos Tevez's representatives which will allow the Argentinian to leave the club for Manchester United.
10th August 2007 – Carlos Tevez is confirmed as a Manchester United player on a two-year loan deal.
15th August 2007 – Makes his debut against Portsmouth in 1-1 draw.
16th August 2007 – Sheffield United announce their intention to sue West Ham for cost of relegation from Premier League. West Ham describes the action as "desperate".
23rd September 2007 – Scores his first goal for the Reds in a 2-0 win over Chelsea.
29th December 2007 – Returns to Upton Park in a red shirt and given a warm reception by West Ham supporters.
18th May 2008 – Helps Manchester United secure back-to-back league titles.
21st May 2008 – Scores 1st penalty in Champions League shoot out win against Chelsea in Moscow.
23rd September 2008 – An independent arbitration hearing rules in favor of Sheffield United in their claim for compensation from West Ham.
15th October 2008 – West Ham appeal to the Swiss-based Court of Arbitration for Sport (CAS) over the ruling.
26th November 2008 – The High Court grants a temporary order stopping West Ham appealing to CAS, allowing Sheffield United to go ahead with their arbitration claim for damages
8th January 2009 – The Premier League and the Football Association announce they will launch a fresh inquiry into the conduct of West Ham over the Tevez affair.
16th March 2009 – West Ham and Sheffield United agree an out-of-court settlement to end their dispute over Tevez. The agreement is reported to be worth around £20 million.
17th March 2009 – Former Sheffield United manager Neil Warnock, along with past and present players of the club, consider a lawsuit against West Ham in a bid for personal compensation.
Pompey, who sit just one place off the drop-zone, face a tricky home tie against Everton in the Premier League this Saturday lunchtime.
For more fascinating features, subscribe and save 30% and use the below link?