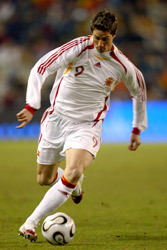 Atletico Madrid's Fernando Torres, who has been linked with a summer move to Manchester United, is expected to remain in Madrid.
The Spanish international striker attracted plaudits for his World Cup displays, and had been tipped as a replacement for Ruud van Nistelrooy, who is expected to leave for Real Madrid this summer.
But Torres' agent Antonio Sanz said: "The player's intention is to remain at Atletico Madrid.
"Neither us, nor the club, has received an offer from Manchester United, or any other clubs for that matter.
"On 21 July, Torres will join Atletico Madrid for pre-season training.
"Torres has two years left on his contract with Atletico and then we will see what happens.
"After the World Cup, there has been interest from Italian clubs but not from English clubs, and there hasn't been anything concrete."
Atletico coach Javier Aguirre had previously told Spanish newspaper Marca that Torres' future at the club looked uncertain.
"I've spoken to Fernando and he hasn't been able to guarantee his presence in the team in the forthcoming season," he said.
"The market is still open and a lot of things can happen, but it is clear that every day that passes is one day less for something to occur.
"What I want to make clear, though, is that Fernando has a great commitment to the club."