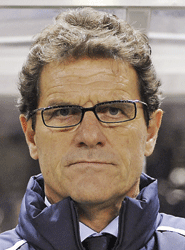 Joe Kiddle thinks Uruguay should be laid when they take on Ireland tonight – see all of his betting tips here…
Leaders of England's Football Association have criticized the body's former chairman for removing an escape clause from coach Fabio Capello's contract before the World Cup without consulting the board.
David Triesman agreed to the amendment just before resigning after being caught in an unrelated newspaper sting into World Cup voting corruption.
"I'll hold my hands up on behalf of David Triesman and say, in hindsight, it was a whole board decision (to remove the clause) and should have gone to the whole board," FA general secretary Alex Horne told a British parliamentary inquiry into football governance. "It did not go to the whole board … the decision has been reviewed internally and we hold our hands up to a corporate governance mistake."
England reached the second round at the World Cup but lost to eventual semi-finalist Germany. Had an escape clause been in place after the tournament, Capello or the FA would have been able to activate a cut-price deal to terminate the coach's four-year contract two years early.
"Within that contract was a clause allowing either party to terminate for an amount of liquidated damages," said Horne, who was acting chief executive at the time.
After the disappointing World Cup campaign, many England fans wanted the FA to sack Capello. But after the contract amendment, that would have proved too costly for the organisation. Capello's contract is worth a reported £6 million annually.
Horne defended the decision to retain Capello, but regretted how the initial decision was taken by Triesman and "four or five people" on the board.
"David was the senior member involved as chairman of the association and clearly felt he had the authority to make that commitment," Horne said. "It was only after he left that the board questioned the decision."
David Bernstein eventually replaced Triesman as chairman.
"While I'm chairman, it won't happen again," Bernstein told legislators. "I would ensure that proper governance is in place for those things."
Joe Kiddle thinks Uruguay should be laid when they take on Ireland tonight – see all of his betting tips here…