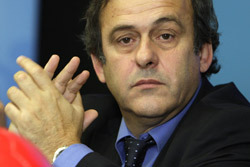 Man City take a 2-0 lead to Denmark to face Aalborg in their 2nd-leg last-16 UEFA Cup tie. See all the latest match betting here.
European football's governing body UEFA and the continent's leading clubs have no plans to create a "Super League" to replace the Champions League and UEFA Cup, officials have confirmed.
UEFA officials insisted that a European Super League is a "non-starter" for their president Michel Platini, dismissing reports it was considering plans for such a competition.
Platini was quoted by France Football as saying UEFA was prepared to discuss plans from European teams to create a continental league to replace the Champions League and UEFA Cup. Italy's Gazzetta dello Sport claimed the project also had some backing from within UEFA.
"People should not mix-up the philosophy and reality. As far as the president (Platini) is concerned such a proposal (super league) is a non-starter," a senior official close to Platini told Reuters.
"He (Platini) is always open to dialogue and to look at ways of adapting and improving UEFA competitions in line with the times. But he has his own philosophy and beliefs about the game and one such belief is that he is dead set against a super league."
France Football quoted Platini as saying: "Everybody knows my philosophy about European competitions… but the world is changing and we must be careful about that.
"If it was up to me, I would revert to European Cups as they were at the beginning, with just knockout rounds. But we must listen carefully to any suggestion. If (clubs) come and talk to us, we would listen to them and then decide."
The French publication also said the European Club Association talked about a "Super League" during a meeting last week in Nyon, Switzerland.
But a spokesman for the ECA said the organisation – representing 137 clubs – "is very happy with the existing European competitions".
"ECA regrets these unfounded rumours which can only damage the harmony in the European football family," he said after the ECA executive discussed media the reports at a meeting in Amsterdam on Tuesday.
"We have never had any intention of implementing such a competition. We have never discussed it and it has never been on our agenda."
According to the original newspaper report, the new Super League would be made up of three divisions with 20 to 22 clubs in each tier. Promotion and relegation would occur between the divisions each season.
European domestic leagues would remain if a Super League ever got the go-ahead, Gazzetta said, but the number of matches in individual championships would have to be reduced so that top clubs could play in both competitions.
Gazzetta claimed the global economic crisis had prompted talk of a Super League idea to resurface but gave no indication over when advocates wanted the tournament to start.
"Nobody in UEFA is working on a super league. It simply has not been brought up as a matter," another UEFA official said.
The UEFA Cup is being rebranded as the Europa League next season. Platini voted against the name change, but backed the expansion of UEFA's second-tier competition whose image has suffered since the rise of the more lucrative Champions League.
Gavin Hamilton on talk of a European superlague
Man City take a 2-0 lead to Denmark to face Aalborg in their 2nd-leg last-16 UEFA Cup tie. See all the latest match betting here.
For more fascinating features, subscribe and save 30% and use the below link?