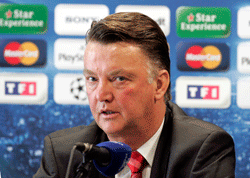 It's so tight at the bottom of the Premiership – whose your fancy to go down? We've got the best betting odds on every club here…
Bayern Munich have sacked coach Louis van Gaal 24 hours after Saturday's 1-1 draw at Nurnberg.
The Dutchman was due to leave the club at the end of the season but his departure has now been brought forward, with the club struggling to qualify for next season's Champions League.
Van Gaal led the club to the league title last season, his first at the club, and also to the final of the Champions League.
His assistant Andries Jonker has been placed in caretaker charge until the end of the season, when Jupp Heynckes will succeed him as the club's new permanent boss.
A club statement read: "The board, director of sport and president of FC Bayern took this decision together
"After the 1-1 draw in Nurnberg yesterday and the renewed slide to fourth in the table, and with the threat of missing out on the minimum aim of a place in the Champions League next season, this decision was taken in FC Bayern's best interests.
"Louis van Gaal's assistants Frans Hoek, Jos van Dijk and Max Reckers have also been relieved of their duties."
Bayern meet second-placed Bayer Leverkusen next week, in an encounter that looks like a must-win game. Ironically, Leverkusen are coached by Heynckes, the man who will lead Bayern from next season.
"I expect an explosion against Leverkusen. I expect that the players will finally get rid of that straitjacket they have been wearing in the past months," said club president Uli Hoeness after announcing Jonker as van Gaal's immediate successor.
It's so tight at the bottom of the Premiership – whose your fancy to go down? We've got the best betting odds on every club here…