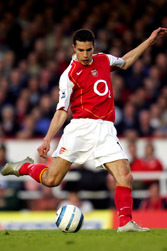 Arsenal striker Robin van Persie has been arrested on rape allegations.
The 21-year-old Dutch international, who joined Arsenal from Feyenoord last summer, was held in Rotterdam on Monday night.
A spokeswoman for the prosecutors office said: "Robin van Persie was arrested on Monday suspected of [a] rape incident that took place at the weekend.
"We cannot reveal any details of what happened as the Dutch legal system is different to that in England.
"He is in police custody and can be held for three days before the police have to charge him or let him go."
The incident allegedly happened over the weekend.
Van Persie, born in Rotterdam, was in the Dutch national squad for World Cup qualifiers against Romania and Finland this month.
At the weekend van Persie revealed that he was looking forward to a lengthy stay with Arsenal.
"I can see myself staying at Arsenal for many years," he said.
"My contract has three years to run and, of course, we will have to see about it.
"I can learn a lot from Dennis (Bergkamp) and it is great he has signed a new contract."