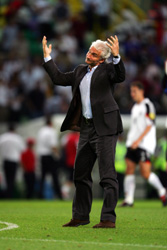 Rudi Voller has quit Roma after his side's humiliating 3-1 defeat to Bologna.
Voller, who toook the position on the eve of the new season, has left the club the after just 26 days in charge because he could control the side the way he wanted
Roma president Franco Sensi was hopeful that Voller would reconsider his decision after a meeting on Sunday, but the former Germany coach has decided to leave The Giallorossi.
"I want to thank President Franco Sensi for accepting my decision to resign," said Voller.
"I am accustomed to dealing with a team in a certain manner," he added.
"I tried to continue doing it my way, but last night I understood that it wasn't the right way for Roma. If I can't control something, then there is nothing I can do to change it.
"The club was behind me 100 per cent and the squad, led by Francesco Totti, asked me to stay on. I feel it is the right thing to do, as I don't think I can help this team. The best way to help them is to put more responsibility upon their shoulders for what is happening here, although in the last few games perhaps I made mistakes too."
Ezio Sella is set to take charge of the side for next week's Uefa Champions League clash with Real Madrid.
Voller arrived at Rome following the departure of Cesare Prandelli, who resigned before the start of the season due to personal problems.