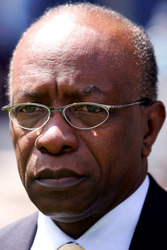 easyodds.com is the home of football betting. Click here for odds on every football match.
FIFA vice-president Jack Warner and his son will be quizzed on Friday for their part in an alleged corruption and embezzlement scandal.
The pair are both accused of making money through the illegal sale of World Cup tickets and FIFA is due to examine a report into the affair.
FIFA spokesman Andreas Herren has confirmed that the report, commissioned in January from auditors Ernst and Young, would be discussed at a session of the FIFA Executive Committee on September 15.
In the build up to the 2006 World Cup in Germany, Warner's son Daryan is alleged to have made 730,000 euros from the resales of tickets which he had obtained due to his father's FIFA contacts.
Daryan Warner runs a travel agency in Trindad and Tobago and was given the sole rights to sell the ticket allocation intended for the Caribbean island nation.
FIFA has denied allegations that it destroyed documents related to the case.
According to a report in Tuesday's Daily Mail, Warner and his son and son made a profit of at least £500,000 on 5,400 tickets for England, Mexico and Japan matches.
FIFA's ethics committee criticised Warner's ticket deals, concluding he had abused his position and failed to declare his business interests.
But in March their executive committee cleared him after he claimed he had severed connections with Simpaul. However, according to the Mail report, Daryan Warner remained in his position as managing director of Simpaul and Jack Warner's personal assistant Patricia Modeste remained as company secretary.
The lenient treatment of Warner was in contrast with the fate of fellow executive committee member Ismail Bhamjee.
Bhamjee was caught selling a dozen World Cup tickets to English fans and was instantly expelled by Fifa.
easyodds.com is the home of football betting. Click here for odds on every football match.