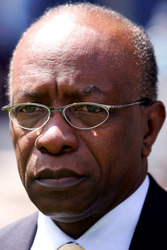 Save up to 33% on a subscription to World Soccer
FIFA vice-president Jack Warner said he "laughed like hell" when told of the new corruption allegations made by the former Football Association and England 2018 bid chairman Lord Triesman.
Triesman told a parliamentary committee on Tuesday of "improper and unethical" behaviour by four FIFA executives, claiming they asked for favours, including money and a knighthood, when he was lobbying for England's bid.
Triesman claimed Warner sought money to build an education centre in Trinidad at an estimated cost of £2.5m.
But Warner, president of the CONCACAF federation, told Trinidad's Newsday: "First of all, I laugh like hell because it took those guys from December to now [to say] that I have £2.5m, I believe. I never asked anybody for anything.
"When these guys came here, we promised to help. I showed them a place where they can put a playground. They promised to come back but they never did. That's all.
"What is painful is that the FA spent £19m on a bid, [but] the only vote they got is the English [FIFA executive's] vote. How come not even one person from Europe voted for them? They're looking for all different reasons. Why don't they, in a dispassionate way, sit down and ask why not one European voted for them?"
Warner claimed nobody in FIFA would take Triesman's claims seriously, NOTING that the peer was forced to step down as FA and bid chairman in May last year after claiming that Spain and Russia would bribe referees at the World Cup.
"The important thing is that I think nobody of substance really takes those guys seriously," Warner continued. "Triesman was unceremoniously removed. Where is his credibility? I hold my head tall because I can stand up and tell the world I never accepted anything. People who know me would be totally dismissive of that nonsense."
FIFA have written to the FA to ask for "a complete report from Lord Triesman", including "any and all documentary evidence at his disposal".
A statement said: "In his letter to the FA, the FIFA secretary general expresses the extreme concern of FIFA and the FIFA President at the latest allegations questioning the integrity of some FIFA Executive Committee members."
Meanwhile, Mohamed bin Hammam, the FIFA presidential candidate who helped secure the 2022 World Cup for Qatar, has denied claims that his country paid bribes for votes.
The Sunday Times claimed that the FIFA executive committee members Issa Hayatou from Cameroon and Jacques Anouma from the Ivory Coast were paid $1.5m to vote for Qatar, but Bin Hammam insisted that was not the case, and also demanded evidence of his alleged wrongdoing.
"I can assure you nothing like this has happened from our side," he said. "If someone wants to damage reputations like this then they have to provide the proof. You can't accuse people just like that.
"It didn't happen. It is fine to say something, to try to damage the reputation of somebody, but where is the proof?"
FIFA have also written to the newspaper asking for further evidence.
The UK sports minister Hugh Robertson has called on FIFA to implement a wholesale reform of its World Cup bidding process after the allegations, but ruled out an FA breakaway from FIFA.
Robertson, who had earlier told the BBC that "all options were possible", said: "Leaving FIFA is not on the agenda but all the effort at government level is on trying to get reform at FIFA. FIFA needs to have a look at what the International Olympic Committee did after the Salt Lake City scandal and the reforms it made.
"Three cities are bidding to host the Winter Olympics with the decision in July, and there is not a suggestion from anyone that this is anything other than a fair contest. FIFA needs to get to that position."
Robertson also ruled out the possibility of FIFA restaging the 2018 vote.
He added: "There is no practical chance of the process being rerun – that would be a huge admission of failure by FIFA.
"I think we have to be honest as a country that Lord Triesman made these allegations in parliament but they are going to be very difficult to actually prove because these were just conversations he had with individuals."