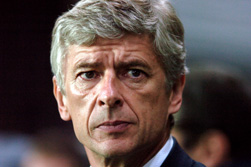 Arsenal manager Arsene Wenger has admitted that a top two finish is now beyond the club, following last night's 1-0 defeat to Liverpool.
The defeat left Arsenal four points behind Spurs who are in the vital fourth spot, which brings Champions League qualification, and a whopping 13 points behind second-placed Manchester United.
"Automatic qualification in the top two, certainly not, but qualification is still possible. But it will be hard," said the Arsenal boss.
"At the moment we are struggling for confidence and that affects the senior players as well as the younger ones."
It was the fourth time the Gunners have lost 1-0 on their travels in recent weeks.
"What can I say? We have lost another away game 1-0 and it is happening too often," said Wenger, whose side face Real Madrid in the Champions League next week.
"We need to recover now and find the right balance to go to Spain for the Champions League, we must find a way to put Real Madrid under pressure."
Subscribe to World Soccer – The essential football magazine