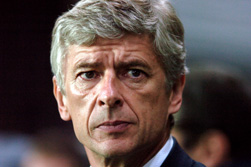 Betting on Football? Click here and generate more money on every correct bet.
Arsenal manager Arsene Wenger, who today celebrates ten years in charge of the club, has been offered a job for life by the Gunners vice-chairman David Dein.
Dein said: "We want him for the rest of his career. If he wanted to give up the tracksuit he'd be invaluable in the boardroom in a technical role."
Wenger he has no thoughts of retiring, saying: "We have a young team and want to continue developing.
"Reaching the Champions League final last season gave us belief."
During his tenure at Arsenal, Wenger has won the Premiership three times and lifted the FA Cup on four occasions. Only in Europe has success eluded the former Monaco coach.
He has also seen the club move to their new 60,000-capacity Emirates Stadium.
Wenger added: "I listened to Tony Blair on the television and when he said that '10 years ago we started' I thought for a moment he was talking about me!
"He talked about how the world had changed in that time and our world has changed here too. The stadium is a concrete sign that we are going in the right direction."
"Of course it would be a dream come true for him if we could win the Champions League in his 10th year here. That would be amazing," said Ljungberg.
Meanwhile, Freddie Ljungberg says winning the Champions League would be the perfect way to celebrate Wenger's decade at Arsenal.
"He is a great coach. I can't say more than that. I think that's the best way to describe him. He brought a lot of success to the club," said the Swede.
"He's quite open to every thing. From what I understand, Arsenal have scouts all over the world. He doesn't just specify it should be one country.
"There's not a lot of players that he doesn't know who they are."
Ljungberg also believes that Wenger's greatest legacy in North London, at a club where he has brought sustained success and overseen the move to Emirates Stadium, will be forging Arsenal's distinct style of attacking football.
"He has brought a lot of trophies to the club, but maybe he will be remembered specifically for the way we play."
Betting on Football? Click here and generate more money on every correct bet.