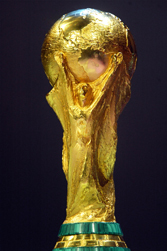 Germany v Argentina
Kick-off 16:00 (BST)
Discuss this game on our new Forum
FREE £5 CD WOW! voucher for all new easyodds members, no purchase necessary. Click here to register now!
Germany meet Argentina in the World Cup's first quarter final in Berlin today in what promises to be the match of the tournament so far.
The two nations have met on four previous occasions in World Cups including the finals of 1986 and 1990. Germany have two wins to one for Argentina.
Their most recent fixture was in last year's Confederations Cup and ended in a 2-2 draw, although Germany's form since then has improved significantly.
With ten goals apiece in the tournament to date, both sides have shown a commitment to attack that has earned plaudits from friend and foe alike.
Germany coach Jurgen Klinsmann has promised a passionate performance from his players, no doubt inspired by a fanatical home crowd in Berlin.
"We are ready for an almighty fight – and to win it," he said.
"We will go into the match full of aggression and passion and then we will see how Argentina respond.
"Both countries have huge expectations. We know we need to go to the limits to win and we are ready to do that.
"It is special to play against Argentina – one of the best teams in the world. We go into this game full of energy and full of optimism.
"I would not say we are overconfident but we have a lot of self-belief.
"From what I have seen of the other countries in this tournament, we do not need to hide from anyone.
"I have great respect for Pekerman and his school of football. They've played together many years and honed their style," he added.
"But we won't alter our plan to counter Argentina's style of play. It must be the other way round."
Since beating Costa Rica 4-2 in the opening game of the competition, Germany have not conceded a goal and the ease with which they demolished Sweden, means Klinsmann is unlikely to meddle with his starting eleven.
Captain Michael Ballack has been affected by a minor foot injury during the week, but is expected to line up alongside Torsten Frings in midfield.
Klinsmann's Argentine counterpart Jose Pekerman will wait on the fitness of Nicolas Burdisso and Lucho Gonzalez before naming his side.
Both players missed the pulsating second round win over Mexico, but it is Burdisso whose injury looks like it could keep him out of today's game. If he misses out then Lionel Scaloni may deputise, although Cufre may well be considered a safer bet defensively.
Maxi Rodriguez, who scored a wonderful winner in the extra-time win over Mexico, will form a four-man midfield with Javier Mascherano, Esteban Cambiasso and Juan Roman Riquelme.
Perhaps Pekerman's biggest decision is whether to retain faith in Javier Saviola, who had a quiet game against the Mexicans, or bring in either Lionel Messi or Carlos Tevez.
Pekerman has told his players to seize the moment and earn themselves a place in Argentine history by winning the World Cup.
"This side has signs of that team," said Pekerman.
"The play, the positions they occupy, we want to keep history going. In each of them there's a bit of that history."
There is plenty of mutual respect between the respective teams and their coaches.
"I want to emphasise that we are very happy here in Germany, enjoying the World Cup, and that puts us in a position of respect towards our hosts," he said.
"This match will be resolved on the pitch, playing football in the right way."
Pekerman paid tribute to Jurgen Klinsmann, particularly the way in he has transformed a Germany side that has confounded expectations by coasting to the last eight.
"Germany have done very good things in the Klinsmann period, a renewal with many new players, an attacking style that is producing great matches for them.
"This has to be said, and the same for Argentina, who always go out to play. The truth will be revealed on the pitch."
Both teams have practised penalties ahead of today's game, although Pekerman does not believe the game will be decided by a shootout.
"We're not thinking of getting to the penalties," he said when asked if he already had selected five players for spot kicks.
However, given the fact that both teams seem so closely matched, it would not be surprising to see the match settled in such a fashion. However, for the sake of the tournament and indeed the respective teams, one hopes that the game is not determined by the lottery of a shootout.
Probable teams:
Germany: Lehmann, Friedrich, Metzelder, Mertsacker, Lahm, Schneider, Frings, Ballack, Schweinsteiger, Podolski, Klose.
Argentina: Abbondanzieri, Cufre, Ayala, Heinze, Sorin, Gonzalez, Mascherano, Riquelme, Rodriguez, Saviola, Crespo.
Referee:: Lubos Michel (Slovakia).
FREE £5 CD WOW! voucher for all new easyodds members, no purchase necessary. Click here to register now!
Discuss this game on our new Forum