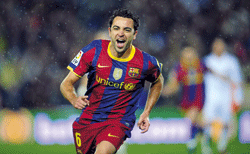 Dan Billinghurst gives his best bets for tonight's Juventus v Man City clash
Xavi, the brilliant midfield orchestrator of Spain's 2010 World Cup triumph, has been voted World Soccer's World Player of the Year.
The 29-year-old Barcelona star saw off competition from 2009's winner Lionel Messi, World Cup stars Diego Forlan and Wesley Sneijder, as well as Barca and Spain team-mate Andres Iniesta, to become the first Spaniard to win the award, which is now in its 29th year.
This year's contest was one of the closest in the award's history, with Xavi, Messi, Sneijder, Forlan and Iniesta all receiving a significant proportion of the total vote.
The victory is a recognition by World Soccer readers of Xavi's intelligent passing game: a hallmark of both the Spain team that triumphed over Holland in July's World Cup Final and the exciting Barcelona side that retained the Spanish league title and was squeezed out of the Champions League semi-final by Jose Mourinho's Internazionale.
Nine of the players who finished in the top 10 were among the star performers in South Africa, with the exception being Diego Milito, who scored both Inter's goals in their Champions League Final victory over Bayern Munich.
The results confirm Spain's status as the world's top league.
Six of the top 10 play their club football in the Primera Division, while three play in Italy with Inter and one in Germany (Bayern Munich's Arjen Robben). There were no players from England's Premier League in the top 10.
Spain's World Cup success was recognised by World Soccer readers with a comprehensive victory in the World Team of the Year category. The world champions received almost two-thirds of the vote, ahead of European club champions Inter.
However, it was not a clean sweep for Spanish football. Mourinho won the World Manager of the Year award for the third time following his Champions League triumph.
In the Young Player award, there was recognition of Germany's exciting World Cup performances, with Thomas Muller of Bayern Munich taking the prize, ahead of his international team-mate Mesut Ozil.
Votes were cast from more than 40 countries, including Australia, Estonia and Greece, to once again demonstrate the global nature of the World Soccer awards.
World Player of the Year % of votes
1 Xavi (Barcelona & Spain) 25.8
2 Lionel Messi (Barcelona & Argentina) 24.1
3 Wesley Sneijder (Internazionale & Holland) 17.3
4 Diego Forlan (Atletico Madrid & Uruguay) 15.8
5 Andres Iniesta (Barcelona & Spain) 10.8
6 Diego Milito (Internazionale & Argentina) 1.2
7 David Villa (Valencia/Barcelona & Spain) 1.1
8 Iker Casillas (Real Madrid & Spain) 0.9
9 Samuel Eto'o (Internazionale & Cameroon) 0.5
10 Arjen Robben (Bayern Munich & Holland) 0.4
Others 2.1
Manager of the Year
1 Jose Mourinho (Internazionale/Real Madrid) 48.3
2 Vicente Del Bosque (Spain) 26.6
3 Oscar Tabarez (Uruguay) 5.2
4 Joachim Low (Germany) 3.3
5 Pep Guardiola (Barcelona) 2.5
6 Harry Redknapp (Tottenham Hotspur) 2.4
7 Bert Van Marwijk (Holland) 2.3
8 Louis Van Gaal (Bayern Munich) 2.2
9 Ricki Herbert (New Zealand) 2.1
10 Carlo Ancelotti (Chelsea) 1.9
Others 3.2
Team of the Year
1 Spain 63.3
2 Internazionale 16.5
3 Barcelona 5.3
4 Uruguay 3.5
5 Germany 2.4
6 Holland 2.3
7 Atletico Madrid 1.6
8 Ghana 1.2
9 Bayern Munich 1.1
10 Santos 0.9
Others 1.9
Young Player of the Year
1 Thomas Muller (Bayern Munich & Germany) 45.8
2 Mesut Ozil (Werder Bremen/Real Madrid & Germany) 27.2
3 Gareth Bale (Tottenham Hotspur & Wales) 8.5
4 Javier Hernandez (Guadalajara/Man United & Mexico) 6.3
5 Neymar (Santos & Brazil) 4.1
6 Pedro (Barcelona & Spain) 1.7
7 Coutinho (Vasco da Gama/Internazionale & Brazil) 1.5
8 Sergio Asenjo (Atletico Madrid & Spain) 1.4
9 Jozy Altidore (Villarreal & USA) 1.2
10 Xherdan Shaqiri (Basle & Switzerland) 1.1
Others 1.2
Dan Billinghurst gives his best bets for tonight's Juventus v Man City clash
A subscription makes the Christmas perfect gift. Give a lasting gift this year and save up to 33% when you subscribe.