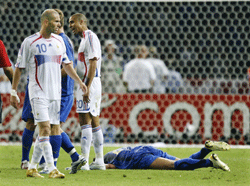 Zinedine Zidane is to speak for the first time after his red card in the World Cup final, which France lost to Italy on penalties.
The 34-year-old will appear on French television at 1900 BST on Wednesday.
Fifa has confirmed that it will investigate Zidane's sending off for a headbutt on Marco Materazzi, which occurred moments after he was insulted by the defender.
Fifa president Sepp Blatter has hinted that Zidane could be stripped of his World Cup best player award.
"It's not Fifa that decides who wins this award but an international committee of journalists," he told La Repubblica newspaper.
"All the same, the Fifa executive committee has the responsibility of intervening when it is a matter of conduct which goes against the ethics of the sport.
"That is why I gave the orders to our disciplinary commission to investigate what happened.
"To see him (Zidane) acting like that leaves me vexed, both for himself and for all sense of fair play."
Zidane and Materazzi exchanged words with 10 minutes left of extra-time before Zidane stepped forward and thrust his head into Materazzi's chest.
Materazzi has denied calling Zidane a terrorist and claims he did not insult the player's mother – as has been reported. He told La Gazetta dello Sport: "It was the kind of insult you will hear dozens of times and just slips out of the ground.
"I didn't call Zidane a terrorist and certainly didn't mention his mother.
"I am ignorant, I don't even know what an Islamic terrorist is; my only terrorist is her," he said pointing to his 10-month-old daughter.
"I did not bring up Zidane's mother; for me a mother is sacred.
"I held his shirt, for only a few seconds," said Materazzi.
"He turned towards me and scoffed at me, looking at me with super arrogance, up and down.
"He said 'if you really want my shirt, you can have it later.'
"It's true, I shot back with an insult."