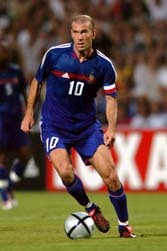 World Soccer: Are you happy that you played in your era and not today?
Zinedine Zidane: My era was very kind to me. I won every trophy there was to win. Anyway, I'm not looking back to the dim and distant past. I only retired four years ago. The game is essentially the same.
Are players paid too much today?
There's no getting away from it – top players at top clubs do earn massive amounts. The trick for the fortunate ones such as me is to stay humble, never forget where you came from and look to give something back to the game and the fans as often as possible.
What is your fondest football memory?
Becoming a world champion with France in 1998, and scoring two goals in the Final against Brazil was the pinnacle. The huge numbers who turned out to see us parade the World Cup in the streets of Paris was a sight and an experience I'll never forget. Winning Euro 2000 was a proud moment as well. People tend to home in on the 1998 achievement and forget we were much improved as a team in 2000. Not to mention winning the Champions League with Real in 2002.
Did you ever have the perfect game, when everything you tried came off?
I'm my own harshest critic and, take it from me, it didn't happen often. I was particularly pleased with a Euro 96 qualifier in which we beat Slovakia 4-0 in Nantes – I was in the groove right from the start. I was an international novice but just felt so confident that night. My performances against Spain and Brazil at the 2006 World Cup probably were in the same bracket.
Your best goal?
Without question my volley in the Champions League Final of 2002. The sort of goal that only happens one in a thousand times in competition.
Do you think you became a better payer after leaving French football for Juventus and then Real Madrid?
What I did improve was my competitiveness. Football in Spain and Italy is a religion. Less so in France. You have to deliver, or else.
If you could rerun your career would you have done anything differently?
I would have loved to have played for Olympique Marseille, the city where I grew up. While at Cannes a move to OM was in the wind, but I ended up at Bordeaux. Naturally I'm not proud of my red cards for retaliation. After being sent off against Saudi Arabia at the 1998 World Cup there was time for me to return to the side and make amends.
I didn't have that opportunity after the 2006 World Cup Final. It was my last act as a professional and not the way to go out. I take full responsibility for my reaction that night – but it doesn't mean I'd ever beg Materazzi's pardon.
Which games left you with the most regrets?
Juve's defeats in the Champions League Finals of 1997 and 1998. I'd lost the 1996 UEFA Cup Final with Bordeaux [against Bayern Munich] and it seemed a little like a curse.
What's been the biggest change in football since you stopped playing?
The role of the media continues to grow at a fast pace. The greatest change in the game is one for the near-future – video technology. I've no problem with it for disputes about incidents in the box which directly lead to a goal, but not for anything else, otherwise a game will last for hours.
Which players in the past 50 years have you admired the most?
As a youngster I loved to watch the tricks and the elegant play of the Uruguayan attacker Enzo Francescoli at Marseille. I'd have paid to see Maradona, Michel Platini, Ronaldo and Xavi today.
Who was the biggest influence on your career?
The coaches I had early in my career: Jean Fernandez and Luis Fernandez at Cannes, and Rolland Courbis at Bordeaux taught me the fundamentals of professionalism. Jean Fernandez was wise and serious; Luis and Rolland were strong personalities who were very close to their players. I like that. It's so much better than having a policeman for a coach.