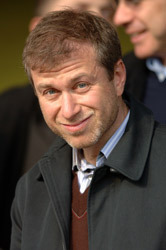 Roman Abramovich has dismissed suggestions that his commitment to Chelsea is wavering.
Abramovich bought Chelsea in 2003 and his financial outlay enabled Chelsea to win back-to-back Premiership titles in 2005 and 2006.
He continued his spending spree last summer, providing £30m to bring Andrii Shevchenko from Milan, but his refusal to sanction further spening in January, at a time when coach Jose Mourinho was seeking defensive reinforcements to bolster his injury-hit squad, prompted speculation that Abramovich was growing bored with his acquisition.
However, when quizzed about his spending plans for Chelsea, Abramovich insisted he would continue to bankroll the club.
"This is absolute nonsense," he told Ekho Moskvy radio station on the prospect of no longer spending in the transfer market
"Everything will remain the same. My relationship with Chelsea has not changed and I wouldn't want to change anything."