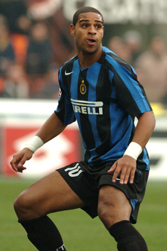 Adriano has revealed he would like to to play for Real Madrid in the future.
The Internazionale striker admits to being flattered by the interest that Real president Florentino Perez is showing in him.
"I am very happy that Florentino has said good things about me," the Brazilian declared on Spanish television station Canal Plus.
"We will have to see what happens in the future, but I hope to fulfil my dream and that of Florentino's.
"He likes my style a lot and watches the games I play in and wants me to be a part of his club.
"But it is very difficult to leave Inter now because I am an important player here, but in the future I hope to play for Real Madrid.
"I want to enjoy my football. I came to Italy when I was very young to learn more and then to be able to go to Spain."
Adriano also revealed he enjoyed working with Madrid's director of football Arrigo Sacchi, who was coach at Parma when the striker was there.
"Sacchi helped me a lot," he explained. "I was very young when I went to Parma and he was like a second father to me.
He also said that he turned down a move to Barcelona when he left Parma.
"It is true that I could have gone to Barcelona," Adriano continued.
"I spoke with Sandro Rossell, but in the end I preferred to join Inter."