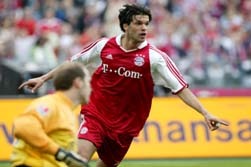 Germany captain Michael Ballack has been holding negotiations with Chelsea about a move to London, his agent Michael Becker has revealed.
Becker was responding to criticism from Bayern Munich commercial manager Uli Hoeness that Ballack was primarily interested in money.
He told the Frankfurter Allgemeine Zeitung that Bayern had treated Ballack unfairly in negotiations.
"This comment is without foundation," Becker said, referring to Hoeness's remark.
"Money is not the issue in the price category that Michael is in. He will be making a decision based on sporting considerations. We are in serious negotiations wiht Chelsea in London."
The midfielders's contract at Bayern runs out at the end of the season and Ballack has reportedly rejected an offer of €36m to sign a new deal with the German champions.
"It was always clear that Michael was not interested in learning a new language or a new culture but rather a new currency," Hoeness told Kicker newspaper on Monday, ridiculing Ballack's claims he wanted to learn a new language.
Subscribe to World Soccer – The essential football magazine.