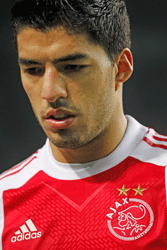 Nottingham Forest are now 9/1 for the Championship after getting within 6 points of QPR last night
Ajax coach Frank de Boer has told Liverpool they have until Saturday to make an acceptable offer for Luis Suarez, or the Uruguayan forward will be staying in Amsterdam.
Liverpool are hoping to sign Suarez, 25, but the two clubs have failed to reach agreement on a fee.
It is believed that Liverpool have offered £12.8 million, while Ajax are demanding a fee in the region of £21 million for a player who scored 49 goals in 48 games in all competitions for Ajax last season.
With the transfer window closing on Monday night, De Boer says Ajax will not allow negotiations to drag on into the final hours of the month.
"We don't want to lose him," De Boer said. "Liverpool know what they have to pay and we are sticking to our guns. We want to know by January 29, after that nothing more will happen.
"We'll add EURO 5 million per day to our asking price from Saturday on until the end of the transfer window. He thinks Liverpool are a good club, but he understands our decision to hold on to him."
Nottingham Forest are now 9/1 for the Championship after getting within 6 points of QPR last night
Take advantage of the January sales by saving up to 36% on a subscription to World Soccer