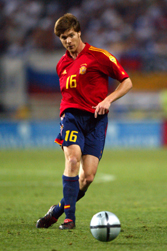 Liverpool transfer target Xabi Alonso has revealed that he snubbed Real Madrid because he wanted to play under new Anfield coach Rafa Benitez.
Alonso is set to complete a move to Anfield later this week after his club Real Sociedad agreed a deal with Liverpool. But it was the influence of Benitez which persuaded him to turn his back on Spain. The Spanish international believes the former Valencia coach can help Liverpool become serious challengers for the title this season.
"Not only is Benitez a great coach, he is a master of psychology. He can make the players become friends and he can help them perform to a higher level," said Alonso.
"This is how he enabled Valencia to triumph in La Liga.
"I believe under Benitez our work will be excellent. I am convinced that this season The Reds can be considered to win the championship."
The 22-year-old admitted he snubbed Real Madrid to move to Liverpool.
"Liverpool are one of those clubs that any player always dreams about playing for.
"It is sad that I will not be in the same team as Michael Owen but sometimes things change in life and the future is still positive.
"When it came down to a choice between Madrid and Liverpool I chose Liverpool.
"They are the club that showed the biggest interest in me."
Meanwhile, Argentine defender Fabricio Coloccini claims Liverpool are still keen on luring him to England.
"I have heard that Liverpool still want to sign me. I hope this can happen as Liverpool are a very big club," said the Milan defender.