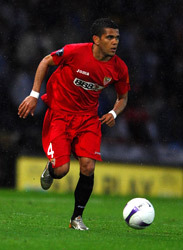 Several of Europe's big spenders have been put on alert following the admission by Daniel Alves' agent that his client could be set to leave Sevilla this summer.
Real Madrid, Barcelona, Liverpool and Milan are all admirers of the Brazilian and will be monitoring the situation after Jose Rodriguez Baster 'Rodri' revealed that the player might be ready to move.
"This type of player always ends up moving because that is the way the market dictates it," the agent told Punto Radio.
"One has to be realistic and recognise that the best players always end up playing for the biggest clubs.
"I am not saying that Sevilla are not a big club, but they are a level behind some on both a sporting and an economic front.
"It is the right time to sell Daniel and besides, (club president, Jose Maria) Del Nido has already said that nobody is indispensable at the club.
"Daniel is happy and the president did everything when it came to renewing his contract the last time."
The 24-year-old, who can operate as a right-back or winger, joined Sevilla in 2002 from Bahia and won his first cap for Brazil last year.