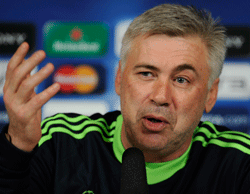 It's the quarter-finals of the AFC Asian Cup this weekend – visit our dedicated betting centre for all the latest odds
Carlo Ancelotti insists Chelsea have not made contact with Udinese over a possible move for Alexis Sanchez, and refused to elaborate on Chelsea's pursuit of David Luiz.
Chelsea are yet to make any signings in January but they have been linked with a number of players from across the continent, including Udinese Chilean winger Sanchez. The Italian club have claimed that talks have taken place but this was quickly refuted by Ancelotti on Friday.
"It's not true that we've spoken with the owner of Udinese," Ancelotti said. "I don't like to speak about this because it's confidential."
Chelsea were confirmed suitors for Steven Pienaar, who this week opted instead to sign for Tottenham for Everton. It had been suggested that a meeting between the player and Ancelotti played a role in his decision to go to White Hart Lane, but the Italian said that no such meeting took place.
"I've never met Steven Pienaar in my life," Ancelotti said. "I didn't search (for) Steven Pienaar to come here to play for Chelsea. We don't need a midfielder – we have fantastic midfielders here already."
One area that Chelsea will attempt to strengthen is their defence, and they have failed with a succession of bids for Benfica defender Luiz, who has been valued at £25 million by his club.
Ancelotti did not deny his interest in the player, but would not speculate as to whether the Brazil international would become a member of his squad.
"Until now, there's no news," he said. "David Luiz is not here and will not be available for the game. So it's not right to speak about this.
"I'm waiting until the end of the transfer window. If there are new players, it means we needed those new players. If there are not, we didn't need them."
It's the quarter-finals of the AFC Asian Cup this weekend – visit our dedicated betting centre for all the latest odds
Take advantage of the January sales by saving up to 36% on a subscription to World Soccer