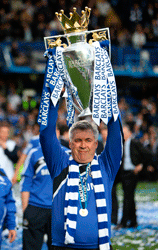 Tottenham have qualified for the 2010/11 Champions League but what price are they to win the competition? See the best odds here.
Chelsea manager Carlo Ancelotti has set his sights on claiming back-to-back Premier League titles.
An astonishing 8-0 win over Wigan saw them finish a point above Manchester United to claim their first league title in four years.
Chelsea last won the crown under ex-boss Jose Mourinho, who led them to successive league titles.
Ancelotti, in his first season at Stamford Bridge, is eyeing Mourinho's feat.
"I think Mourinho did a fantastic job here," Ancelotti said. "He won two titles consecutively.
"This is my first, and I hope to do the same as Mourinho."
Of his team's title triumph, the Italian felt his players deserved their success.
"I think that this club will have a future because these players are not so old and we have a very good squad, for next year and the years after," he added. "We had a fantastic season, not only by winning the Premier League but because we showed a good style on the pitch. After the first year, I hope to stay here a long time and win a lot of titles.
"We closed the season very well with a fantastic performance I think that, at the start of this match, there was a bit of pressure on us and we didn't play so well. But we played much better in the second half. We played a good match and won, and that was our aim.
"To win this game and close this title. We are very happy and I want to say a lot of thanks: to my owner, Roman Abramovich; to my club and everyone who worked with me in this season, supporting me every day; and above all my players.
"I found a fantastic team here who worked very well every day, maintaining a good atmosphere as a team. We won this title because we played as a team and worked as a team, everyone. Not only the players. Everyone at the club who was involved this season wanted to win this title and, in the end, everyone did a fantastic job.
"It's a fantastic moment. I remember every victory because every one stays in your mind. I'm happy to have done this in my first season. I had a lot of help because I found a team and a club with fantastic organisation. So it was easy for me to do my best.
"We had fantastic opponents and Manchester United stayed with us right to the end. I said it would go to the last game, so we have to be proud and happy that we won against such a fantastic team like United. They were a very good opponent."
Tottenham have qualified for the 2010/11 Champions League but what price are they to win the competition? See the best odds here.
Make sure you don't miss any of the last news and articles from World Soccer. Subscribe to World Soccer today and take advantage of our all 50th anniversary offer, saving up to 50%!