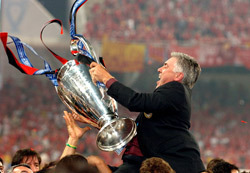 Help us with a Sport and Betting Survey and win a £50 Free Bet! Click here to take part now.
Milan coach Carlo Ancelotti hailed his side's efforts after they landed the Champions League title in Athens with a 2-1 win against Liverpool.
"It's an extraordinary achievement," said the Italian.
"This is an important victory because we did not lose sight of what we wanted to achieve.
"This is the greatest victory we've had. Few fans expected us to win the most important trophy. Maybe no-one."
Ancelotti now has an enviable record as a player and a coach, having won won the European title twice as a player, in 1989 and 1990, and twice as a coach after a previous success with Milan in 2003.
"It's a very special relationship to me," he added. "I feel I belong to the Milan club. I played in this shirt, won important trophies in the shirt.
"I wasn't bothered about the rumours about someone replacing me in November. We just wanted to forget all the bad games which happened last August.
"It wasn't spectacular, but Liverpool is a team that can stop you playing.
"In the first half it was a difficult game. Liverpool attacked very strongly. There was a lot of pressure on our midfield. We couldn't get balls to Kaka and Clarence Seedorf.
"But we are a tough team. We played with attention and care and getting Massimo Ambrosini and Alessandro Nesta fit was very important.
"It was much like our season. We started slowly but grew in confidence as the game went on."
Midfielder Clarence Seedorf, who was also celebrating a fourth victory in the final – a Champions League record – expressed his pride in the club's achievements after a year which saw them laid low in the Italian match-fixing scandal.
"I am so proud to be part of this team. We worked hard this year, a very difficult year," said the Dutchman.
"They had a lot of fighting spirit and were more aggressive, but in the second half we had the better of the game.
"It was not the best game, we were very concentrated and we knew we couldn't make any mistakes against them.
"Hard work makes it happen. We had such a great spirit this year.
"It was difficult to play our total game and we knew from the beginning they would close us, Kaka and me. They played well, but had no great chances."
Kaka admitted that the win was all the more enjoyable coming against the same opponents who defeated them in a penalty shoot-out two seasons ago.
The Brazilian said: "What happened then was strange, just six minutes when we played not so good and we paid for that.
"It's very nice to win because in 2005 we lost. This is a beautiful side."
Striker Pippo Inzaghi, whose goals secured the trophy, said: "These are the evenings that remain with you for all your life.
"I've scored quite a few times in Europe, but scoring in the Champions League final is something special.
"The first goal opened up the game but the second was certainly more beautiful."
And the striker revealed his first goal, with a deflection from Andrea Pirlo's free-kick was a rehearsed move.
"I managed to do it against Empoli in the derby last year," he said. "Every now and again we manage to pull it off. We rehearse it with the manager.
"It's deeply rewarding for me, but most important was to win the cup. The coaches and the players work very closely together and it is great what we have achieved.
"We had to be careful. At 2-0 we felt euphoric but you should never lower your attention. Anything in football can happen, but we were glad it didn't happen tonight."
Help us with a Sport and Betting Survey and win a £50 Free Bet! Click here to take part now.