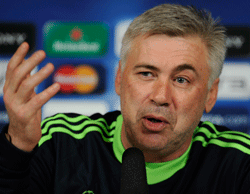 West Brom are now a best price 10/11 for relegation after their controversial 1-1 draw with Stoke last night…
Manager Carlo Ancelotti has again insisted that he intends to see out his contract with Chelsea amid speculation linking him with a return to Italy.
The Italian boss, who still has a year remaining on his deal at Stamford Bridge, has been linked with a return to Serie A with former club Roma.
Chelsea's recent poor run has only fuelled those rumours, with the reigning champions dropping off the pace in the Premier League, as well as crashing out of the FA Cup to Everton.
But 51-year-old Ancelotti, while admitting he would like to coach in Italy again at some point in the future, maintains he has no intention of leaving Stamford Bridge.
"I'm very well in London, I have another year of contract and I intend to stay here," Ancelotti told La Gazzetta dello Sport.
"Here you can breathe, in Italy if a team goes bad the fans are waiting outside the stadium and insult you. I could not stand it.
"Training Roma has always been my desire, which I have expressed several times, but it doesn't mean that it should be realised tomorrow."
When quizzed further on moving back to Roma, he added: "Not now. But in life you always go back where you were good."
Despite Chelsea's recent slump, which has seen them slip to fifth in the league table, Ancelotti says his side still have plenty to play for.
"The season is not yet over. Of course, our journey so far has not been satisfactory," he said.
"The objective is to reach the top four in the Premier League and then there's the Champions League.
"My team, after two negative months, is recovering. I really think will be a nice spring for us."
West Brom are now a best price 10/11 for relegation after their controversial 1-1 draw with Stoke last night…
Take advantage of the sales by saving up to 36% on a subscription to World Soccer